Let Us Entertain You
Though there is no need for additional entertainment while at the site, many hens have commented that having one or two set activities adds to the occasion.  So we have sourced skilled, fun providers that understand the dynamics of hen parties and work hard to give you a high quality, memorable experience.
---
Silent Disco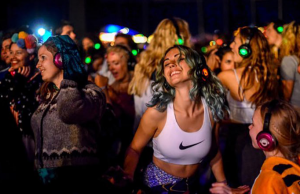 This is brand new for our 2018 season and we can't wait to see it in action! Hire our LED wireless headphones, plug in your own playlist and away you go.  Dancing under a star studded sky (hopefully) disappearing into your favourite tunes.  And of course, being 'silent', you can go on partying longer!
---
Wine Tastings
Our expert, Adam, delivers a fun and informative 2 hour wine tasting, discussing a selection of high quality and interesting wines picked to suit your requirements. There'll be games, quizzes and blind tasting – a great way to get your Saturday night started. 
"So lovely being able to relax with all of my friends, chat and drink good wine … Adam was good fun and happy to accept our in-jokes and girly chat."
---
Be Pampered
Our qualified therapists will come to the site to deliver soothing treatments – either within the tranquil interior of your Yurt or Dome or on your private decking as the sun warms your face.
---
Yoga 
Reinvigorate and have fun on your venue's deck or within it's cosy confines, with an hour of yoga, this is sure to recharge you for your day ahead.   Emily, a qualified teacher, will guide you through a class to meet all your abilities.
---
Life Drawing Class
Learn and laugh together enjoying a life drawing class with a nude model.  During this art lesson you will learn a few basic techniques about drawing and seeing, with guidance from your tutor Laurie Plant.
---
Bollywood
Crank the volume up and join London dance tutor Gita for a whistle stop tour of Bollywood dancing*. Dressed to dazzle in sarees, bindis and bangles why not try a 2hr class which is sure to entertain. With a dance learnt you'll have plenty to show for your weekend away.
*If you have a particular dance genre you would like to try then let us know and will try and accommodate!  Click here to see one in action!
---
Flower Crowns
Relax and chat together with Petite Fleur Oxford and their bespoke flower crown workshops. The perfect warm up for your evening festival theme.
Check it out here
---
Cheeky Cocktails
Hire a barman to conjure up the cocktails for your Happy Hour on the Saturday evening. Whether you want to learn how to make the perfect Cosmopolitan, or you love the fresh minty taste of a Mojito, he will involve you in masterclass that really kick starts your evening.
---
Live Music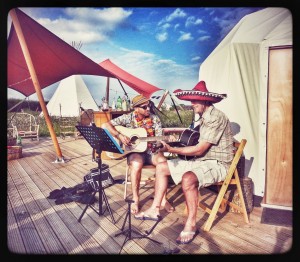 Whether it's a duo or trio (or even more) we can source musicians for your party to entertain you; undoubtedly the perfect end to your last night.
Click here to view them in action
---
Outdoor 'Old School' Sports Day
For FREE why not use our site's beautiful open space and recreate your junior school sports day; borrow our equipment for sack and three legged races, tug of war etc., it is the simplest way to have a giggle!
---
Drumming up Fun
Ray of 'Drum With Us' provides a 2hr workshop that compliments a stay in a yurt or dome perfectly. Sat in the round people find it easy to connect while Ray ensures a lot of laughs and the creation of some very good sound!
Click here to see it in action
---
Cinema Night
Why not hire our projector to be set up in your cosy yurt, making your 'Mr and Mrs' recording more of an event or just bring your own favourite film and snuggle down!

---
Please contact us for a price list on all of the above