Frequently Asked Questions
What's the maximum amount of people we can accommodate?
We can accommodate a maximum of 40 people overnight.
Are there good local pubs?
The Woodman Inn  at Fernham is a mile from the site.   This is the best option for your Saturday lunch, stretch your legs with the walk there and then take advantage of their courtesy mini bus for your return.  The owners, who's previous experience includes running the well know 'Ivy' and 'Caprice' in London, so expect amazing food (at local prices) in a welcoming atmosphere. Or, The White Horse at Woolstone, also excellent and set in a quintesential English village, this has a better garden with wood fired pizza oven.  This about 4 miles from the site.

Does the Site have Wifi?
It doesn't however we do have excellent 4G
What if it rains, is there enough undercover social areas?
This tends to be the biggest worry! but worry not, each group's cabins are fun and cosy to shield yourselves from the elements.  Light the wood burner, pour our yourself a drink and play your own organised games around their large banquet tables.  Before you know it the sun will be out again and to be honest a mixed bag of weather always adds to the excitment – I promise!


What else is there to do in the area?
The ancient Uffington White Horse is well worth a visit. After a short drive, you can hike to the top and take in beautiful views over Oxfordshire.  
The town of Faringdon is a 10 min drive away, it's on the sleepy side but does have some good charity shops, great for a Scavenger Hunt Game.
There are horse riding stables near by and take a short drive to the town of Lechlade for boat/kayak hire on the River Thames and Watersports at Cotswold Watersports.
Oxford is a 40 minute drive from the site which is best visited in the day for punting and sight seeing.
Buscot Tearooms and Buscot & Coleshill Estates are pretty villages and offer afternoon teas.
Please do not hesitate to call Sarah if you would like some advice on the area or have a particular activity you would like to find locally.
Can we bring our vehicles onto the site?
No vehicles are allowed on site but we provide ample parking space approximately 50 yards from the site and pulley carts to ease the unloading/loading.
What is our season?
We run from May to the 2nd week of September.

What is our 'noise' policy?
Our site is right in the middle of the Valley of The White Horse and as such, noise travels far!  Therefore we ask our clients to be respectful of the nearby villages as well as to other parties on site. All music (including your singing) MUST be off  by 11.30pm.  Of course your campfire chats can continue thereafter.
Is there electricity on site?
Each venue has solar power, providing power for lights and mobile phone charging.  They also have their own portable music system to play your favourite tunes from.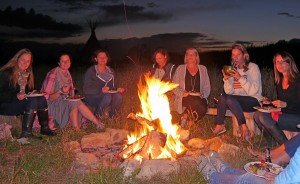 We can't power hairdryers/straighteners I am afraid girls. 
Are there shops nearby and can we get a supermarket delivery?
There are 3 large supermarkets, Waitrose, Aldi and Tesco at Faringdon only 4 miles from us.  Tescos do 'Click n Collect' and this is the easiest option of getting your food/drink to the site.

If making an online order please book in a slot at Tesco, Faringdon Park.

Are there any takeaways nearby that will deliver to the site?
For Pizzas – Caprinos

For Indian – Rafus
Are there shower and toilet facilities?
Let's be honest…us girls all worry about the toilet facilities especially when camping!  Worry not… we have excellent hot showers and toilets (not compostable!) – kept clean and fresh throughout your stay ….these are them!