"The Oxford Yurt provides the most beautiful backdrop for your celebration; you can't help but smile as soon as you step into the site"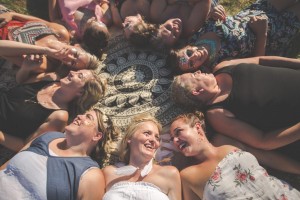 O
rganising a hen party can be a tricky task, trying to come up with agendas, activities and budgets to suit everyone… never mind hoping to impress!
At The Oxford Yurt, we strive to help you achieve your wishes, while using our expertise to ensure a truly memorable weekend.  This extends from planning of the party to your time here.
Fun for all.  In Uffington's rolling hills we are afforded a place to just 'be'… either sat outside in the wildflower meadow or around the campfire… that said, if your're after something livelier there's space for you to have fun – making cocktails in your own bar, while catching up and having a giggle rooting through your vintage wardrobe… and perhaps all before a Bollywood dance class or an old fashioned sports day… with so many activities we can help arrange.
Our 2021 package outlined below has been assembled from years of experience and dances alongside our eco-friendly ethos, but worry not, there are no composting loos in sight and all your creature comforts are met, and often exceeded.
Cooking for you.  Our onsite vegetarian street food 'The Hub & Hob' is central to the site. Your hosts Sarah and Michelle, both trained nutritionists, cook everything from scratch on the day using fresh organic produce grown metres from the site.   
Our Mission.  We don't see why you have to compromise health and fun and neither have our past guests.   Let your hair down but embrace the natural therapeutic ambience of the site and we have no doubt you will return home smiling, invigorated and better connected to each other, and in our experience to nature, having indulged in bags of fresh air, creative home cooking and vast open blue skies for the weekend. 
---
"The Full Yurt Experience" –
Two days and one overnight stay (arrive Saturday from 10.30am, depart Sunday 4pm) @ £197 per person (your Bride comes free of charge if you meet a minimum of 15 hens, excluding her)
What you Get…
Saturday

Dinner (marshmallows provided for your campfire time)
Menus are being explored, tried and tested but as soon as we have them confirmed we will announce!
A choice of either an art activity: rude clay modelling or festival make over pack 
 OR
The silent disco (after dinner)
(possible to have both at an extra cost of £20pp)
Campfire Time – who wants to learn to build a really good campfire? Instruction will be given to those that want it.
Cooked breakfast (our famous 'posh egg buttie') 
Late morning into afternoon is chill time – reminisce over the night before or if feeling energetic? host  your own 'old school sports day' using our equipment bag, giant board games or croquet.
Latest departure by 1.30pm, but if there's time and energy left some hens enjoy walking up The White Horse before returning home or a light lunch at The Woodman Inn,  our excellent local pub (previous managers of the Caprice and Ivy, London).

The Add Ons
Friday night (to include a breakfast hamper) £75 per person.  Saturday lunch with be replaced by Friday dinner giving you the chance to venture off site on Saturday to either walk the White Horse Hill and visit one of our country pubs.

Extra entertainment options now only possible:  Musicians,  Drumming Workshops, Bollywood, Massages and Pamper treatments (see our entertainment page).
Available to you
Hosts on site 24 hrs to help as you need it.
 Giant outdoor games eg. Twister/Noughts & Crosses/Croquet
Yoga Mats (need to pre book)
Percussion instruments provided for campfire singing
Ice throughout your stay
Comfy futons with bedding bundle plus hot water bottle at no extra cost
Your own cabin with: wood burner, basic kitchen and crockery, vintage fancy dress, bar with a canopied lounge area and wood for your campfire.